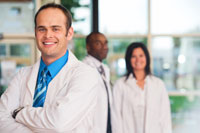 Since 1965, Cooper Drug Pharmacy specializes in full servicing of compounded pharmaceutical products together with filling out prescriptions for Powder Springs GA residents. Being a reliable party, our experts daily meet the demand for top-notch quality medications and specific prescription options. Specialty item needs, variety of gifts, emergency delivery service, special dosing for children's medications, and breathing aid are one of our solutions that can guarantee the fastest treatment for individual health conditions.
Bob Cecil is the owner, accomplished and registered pharmacist in Georgia with a total experience of 32 years in pharmacology. Along with Cooper, he owns Curls Pharmacy in Dallas, GA. Bob knows how important is to have an individual formula or required remedy at hand in case of any allergy or intolerance to commercially distributed drugs. His experience allowed our experts to know inside out of making compounded items to satisfy both young and adult patients. You can turn to us in case of any dietary requirements or preferences as well. Special flavoring, gluten-free supplements, unique dosage forms let us fill the gap in the assortment of goods for people with specific needs while regular pharmacies abstain from helping them.
Other options available at Cooper Drug Pharmacy:
Having side effects to one or several ingredients in the composition of the prescribed drug? No need to abandon your treatment. With us, you will get the necessary improvement by taking the formula that does not cause discomfort in the intake or negative consequences after the application;
Your kid cannot swallow the pill? Let us work on another form, maybe jelly will be the best solution;
Your drug is run out on the pharmaceutical market? We can make the approximate recreated variant for you.
And, it is only half of the approaches to address individuals' medical requirements. Upon contacting us, we can determine the right compounded care for your case without your facing exorbitant prices and a lack of understanding from the pharmacists. Trust professionals.
Please, contact us to get to know more about the assortment of compounded and specialty medications. Any inquiries proceed within 24/7, and Cooper Drug will be right there to meet your expectations concerning qualitative care.
Disclaimer
All the medical data provided on the Cooper Drug Pharmacy website is intended for informational purposes only. It can not be taken into consideration as a substitute for real consultation with a doctor or healthcare provider. The same, it cannot be used for commercial purposes. We encourage everyone to acknowledge the information only. Each health condition is individual, and a compounded medicine is prescribed only in specific events. If you find any inaccuracy posted with us, we will be more than happy to receive your concerns.